Saturday morning (2nd Sep 2006) saw Joel Comm talk about "Cracking the AdSense Code".
Joel has recently written a book called "The AdSense Code" which became a New York Times Best Seller.
As you can probably gather, Joel Comm is an AdSense espert and his session was based upon his experience of building a large, regular passive income from Google AdSense.
Joel's background on the internet goes all the way back to 1995 when he created WorldVillage.com.
In 1996 he started ClassicGames.com which is now part of Yahoo Games (Joel is the model for an avatar on the site).
He started with AdSense in June 2003 when it was first launched. Back in the early days he was making anything up to $7 a day.
By early 2004 he still wasn't making a great deal and promised himself that he would give it a couple more months and if there wasn't a marked improvement in his earnings, he was going to quit.
By April 2004 he was earning $80+ a day and since then he has been experimenting by moving the code and changing the type of ads. These days he can boast an AdSense income if some $600-$800 a day from his content sites.
Joel covered the AdSense basics such as the different tactics you can use; Black Hat, Grey Hat and White Hat.
The conclusion he reached was that you should only use "White Hat" techniques for AdSense content sites as this is the only way to build long term profits. AdSense publishing is not a get rich quick scheme, it is a business which needs building up over time to create a regular passive income.
He also went through the benefits of quality content and how to get of it, the Top 10 mistakes made by AdSense publishers and also 5 strategies to use to increase AdSense income.
I had stopped using AdSense on one site as I was barely making any money at all from it.
After this particular talk I went home and re-added Google AdSense adverts to the site but this time I used the tips and techniques that Joel had given us.
After 1 and 1/2 months I have seen a huge improvement in earnings – just from changing a couple of things about placement of the ads and ad types.
My earnings/impressions ratio has increased by a massive 137%.
You can find Joel's eBook: "What Google Never Told You About Making Money With AdSense" at the following website: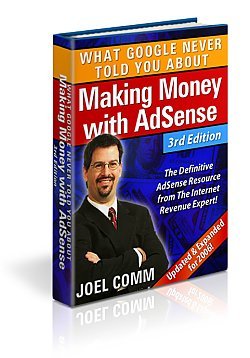 http://www.AdSenseSecretsRevealed.co.uk