I'm back from Bob Puddy's Bristol event and feeling exhausted – it really takes it out of you when you are up 'til late each night then waking up first thing to get to the first presentation.
From 5 o'clock on Thursday evening until late last night it was pretty much a non-stop marathon of drinking, laughing, networking and learning. 
Bob again managed to attract a good range of marketers from the newcomer to the very experienced and it was great to see everyone in the bar each night, speakers and attendees.
Having access to all the speakers in an informal atmosphere was a welcome change – the last seminar I went to was disappointing when the speakers didn't venture into the bar in the evenings. I got the feeling that the vast majority of them left the venue (a hotel in Heathrow) 1 hour after finishing their pitch on the stage.
Not in Bristol…
I witnessed one speaker buying trays full of shots then distributing them amongst all the attendees in the smoking area. The other speakers were a permanent fixture at the bar each evening and very approachable. I get the feeling that Bob makes sure he books people that he knows enjoy a drink or two!
Anyway, it's becoming common to see the same core group of UK marketers at each of these seminars and it's always good for gossip hunting!
In fact, from the insider gossip I heard, it is obvious that the vast majority of internet marketers are psychopaths. There's no other explanation. 
"Cage Fighting" springs to mind! (Anyone at Bristol will know what I mean by that…)
A full review will follow in due time, just give me a few days to recover from the overdose of Cobra.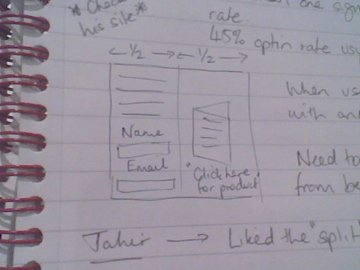 Photo above is a quick shot I did of my notes using my mobile phone.
I've a load of notes to go over now, I always find it's very important to get cracking with the new ideas and techniques asap, whilst you are still enthused…
Word to the wise: Be there next year, you won't regret it